Strengthen Relationships with Touch
As Valentine's Day approaches, we're all thinking about ways to show our LOVE! The healing power of massage and the benefits of the Aromatouch technique are at the TOP of our list here at Oil Life!
AromaTouch Technique
AromaTouch, developed by David K. Hill, is all about maximizing the benefits of essential oils while utilizing the healing power of touch. Like other types of massage, AromaTouch helps reduce physical and emotional stress. The difference, however, is in the oils.
The AromaTouch Technique utilizes oils that were specially chosen by doTERRA for their individual and combined aromatic properties. These oils, which include Lavender and Peppermint along with several others, were chosen for their unique ability to support people's overall well-being. Depending on the individual, the person implementing the AromaTouch Technique will use more calming or energizing oils.
Power of Touch

Touch has the power to help us feel calmer, safer and loved. It is one of our basic fundamental needs and helps strengthen our physical, mental and emotional health. Research has shown that something as simple as a hand on someone's shoulder influences that person's health and behavior in a positive way.
Fun Facts – Power of Touch
Research shows that the more physical affection a child receives during their childhood, the lower the rates of physical violence as an adult.
Touch lowers blood pressure and levels of cortisol (stress hormone).
When we receive wanted affection our bodies release oxytocin aka "the cuddle chemical." This chemical helps nurture feelings of trust and connectedness.
Just 20 seconds of affection triggers the release of oxytocin.
Touch nurtures growth. One study showed that "touch therapy" for premature babies lead to 47% more weight gain than babies who received standard medical care.
GIFT IDEA : Check out our beautiful massage table in the Oil Life Store!  Inspire consistent touch therapy and massage between you and your sweetie!
Have you seen our Intimacy Kit !? Packed with sensual scents, fun gifts and Valentine delights it's sure to let that special someone how much you care! BETTER YET! Add this to your next class for the beneficial bonus of a timely intro to the Oil Life! – Check out our VIDEO on what it includes!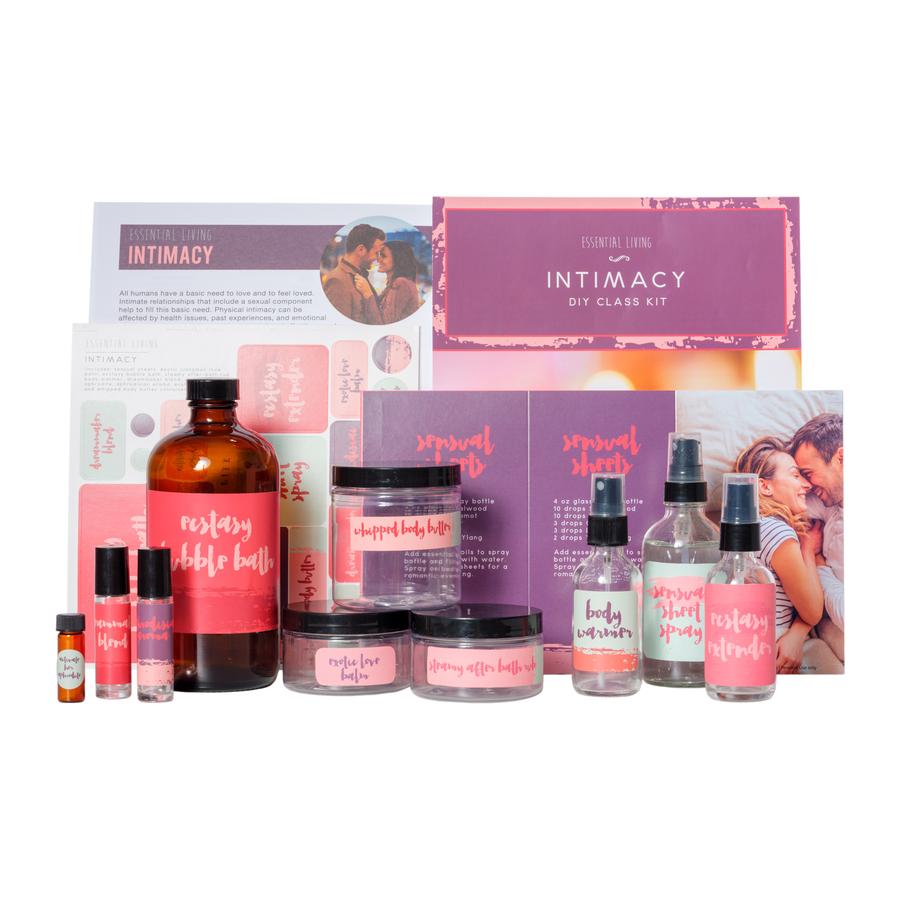 Exotic Cinnamon Love Balm | Ecstasy Bubble Bath | Steamy After-Bath Rub | Body Warmer | Dream-maker Blend | Activate Her Aphrodite | Aphrodisiac Aroma | Ecstasy Extender | Whipped Body Butter | Sensual Sheets
These Kits are GREAT for friends, teachers, neighbors and sharing samples!!!
We made a FREE Valentine's Day gift set print out just for YOU!!! Perfect for sharing your oils with your friends, the kids friends at school, your customers, family, etc! Say I LOVE YOU with a personalized oil card, gift or DIY set! Check out the FREE download here!
Download our FEBRUARY CALENDAR for inspiration, tips and tricks to get you through the month of LOVE!
Join us at our Emotional Health Workshop Feb 19th!!
Articles Cited:
"AromaTouch Technique." Doterra, 2019, www.doterra.com/US/en/aromatouch-technique.
Michael, Justin. "What Is AromaTouch Massage Technique." Narayan Wellness, 13 Feb. 2017, narayanwellness.com/aromatouch-massage-pleasanton-ca/.
Young, Karen. "Hey Sigmund." Hey Sigmund, 2019, www.heysigmund.com/the-remarkable-power-of-touch/.
---